The Scottish Government wants to know the nation's views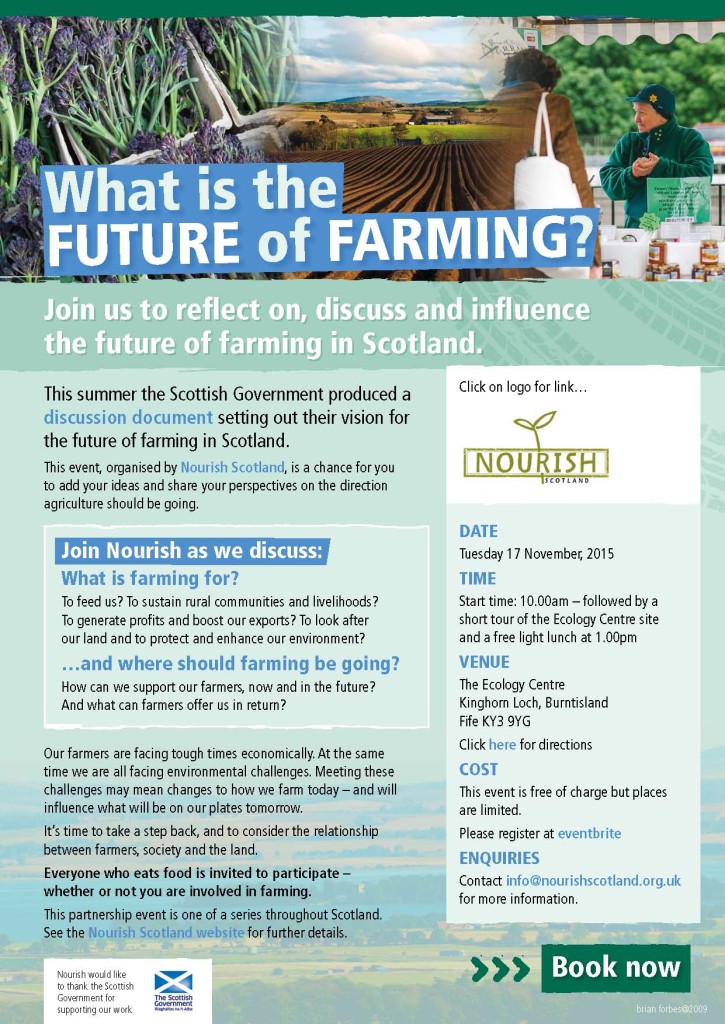 In June 2015 the Scottish Government released a discussion document, The Future of Scottish Agriculture, setting out a vision and strategy for farming in Scotland in the next decades. It is an open consultation, with the Government keen to spread the debate beyond the usual suspects.
Nourish Scotland is supporting this initiative by organising a series of events across Scotland in November, in which everyone can participate and share their views on the role and future of farming. Whether you are involved in farming or not, these discussion events are opportunities to reflect on, discuss and influence the direction agriculture should be going.
Fife event takes place on 17th November
Time: 10.00am, followed by a tour of the lovely lochside site, and then a light lunch will be provided at 1pm
Venue: The Ecology Centre Kinghorn Loch, Burntisland Fife KY3 9YG
Click here for directions.
Click here to book now with Eventbrite.
What is farming for? And where should farming be going?
To feed us well? To sustain rural communities and livelihoods? To generate profits and boost our exports? To look after our land and to protect and enhance our environment?
We can't envision the future of farming in Scotland without reflecting on what farming is for in the first place.
And it's important to ask this question now. Our farmers are facing tough times economically. At the same time we are also facing environmental challenges. Meeting these challenges may mean changes to how we farm today – and will influence what will be on our plates tomorrow.
Time to take a step back, and to consider the relationship between farmers, society and the land.